We are small teams doing BIG things!
Published on: 08 September, 2022
Call for Applications by Friedrich Naumann Foundation: Essence of Liberal Democracy seminar series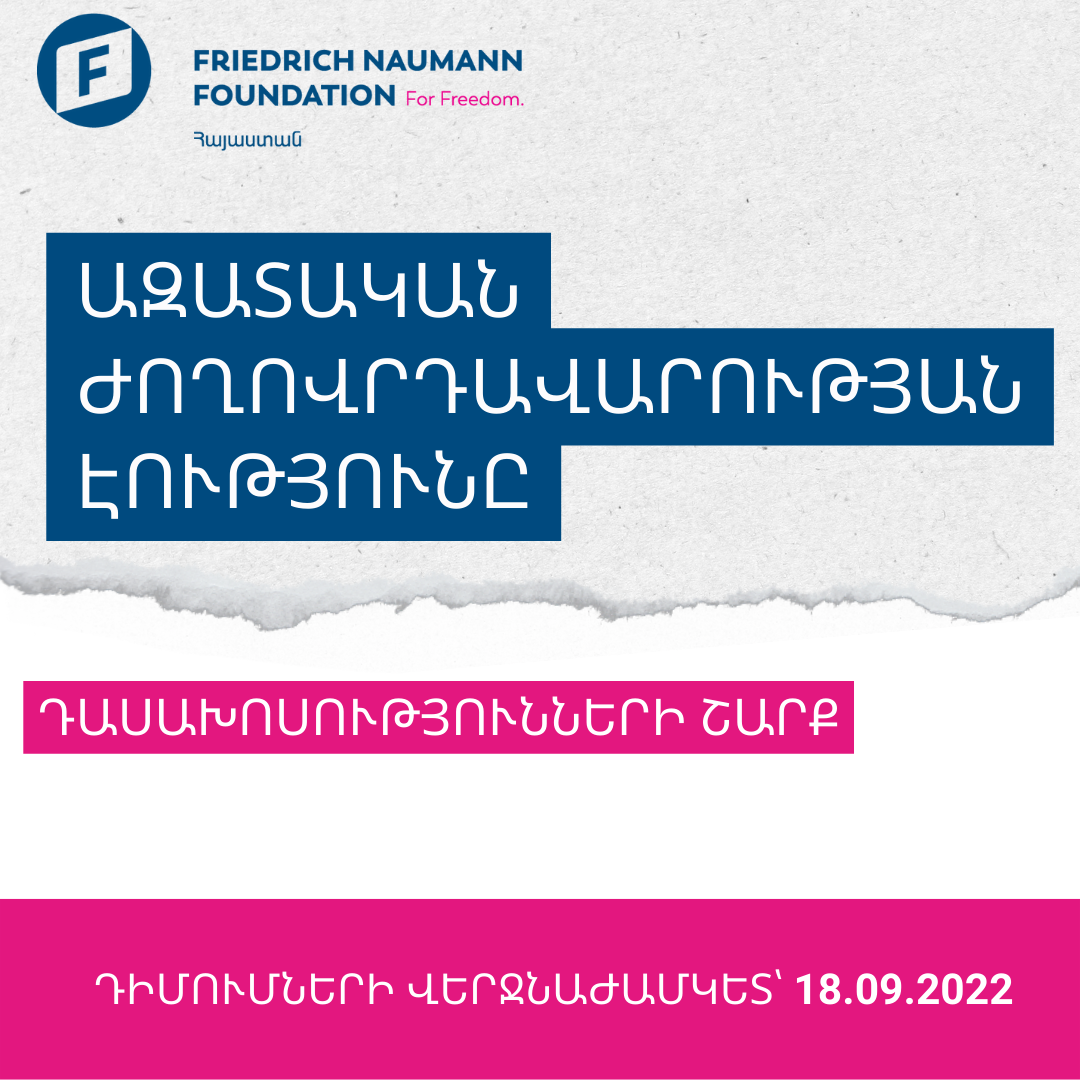 Friedrich Naumann Foundation for Freedom Armenia is announcing a call for applications for a seminar series Essence of Liberal Democracy. The seminars are designed for students, members of civil society organisations working in the fields of democratisation, political and civil rights, as well as for representatives of foundations, media, liberal political parties and others.
The project consists of 18 seminars, which will take place in October 2022 – February 2023. The seminars will take place in Yerevan in the evening.
During the program, the participants will be able to gain knowledge about the origins of democracy, democratization processes, the structure of representative democracy, liberalism, "thick" and "thin" ideologies, democratic and liberal political culture, various anti-democratic, anti-freedom phenomena in the modern world and the struggle against them. Additionally, the participants will have the opportunity to develop their research skills, to deepen their knowledge in research methods of social sciences. Additionally, the participants of the course will present a research paper (within 3000 words) about various aspects of democratic and liberal processes in Armenia. The best works will be published on the website of Friedrich Naumann Foundation for Freedom.
Two lectures will be devoted to research methodology in social sciences and humanities, which will enable participants to properly organize their research projects.
Application procedure:
To submit an application for participation in the course, it is necessary to send
● CV,
● Short motivational letter (max. 1 page) to the following e-mail address: [email protected] with Essence of Liberal Democracy in the subject line.
The deadline for applying is September 18, 2022.
The seminar series is developed by independent researcher-lecturer, Boon TV political analyst and presenter, political scientist Edgar Vardanyan, who will conduct most of the lectures.
Allowed file types: .pdf, .doc, .docx, .xsl, .xsls, .jpg
No file choosen