We are small teams doing BIG things!
Published on: 07 February, 2023
Call for Applications: Apply to participate in the European Media Facility Lab Armenia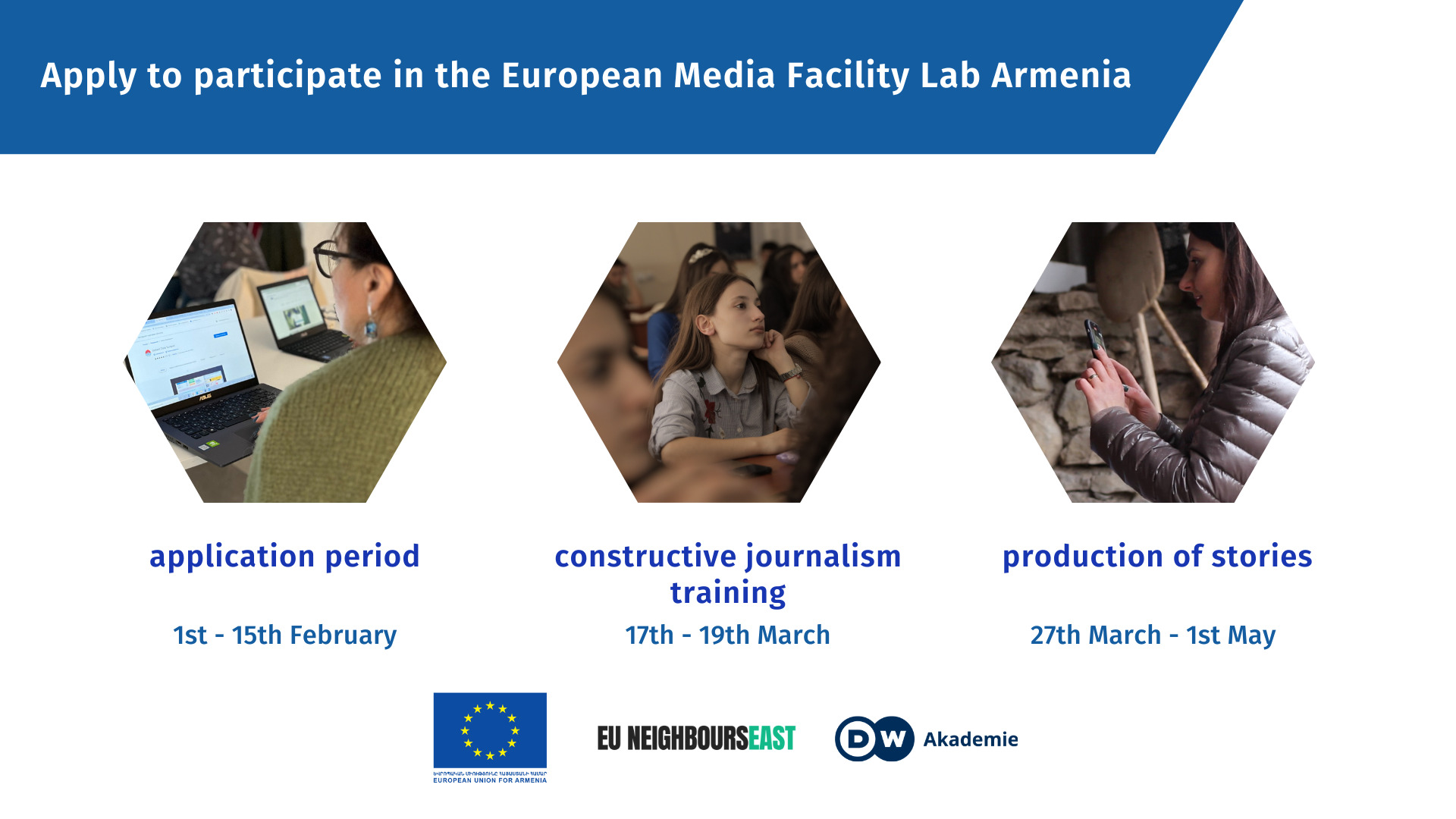 The EU NEIGHBOURS EAST project in cooperation with the 'European Media Facility in Armenia' project, funded by the European Union and led by DW Akademie, is launching a media outreach and capacity-building initiative. The initiative will start with a constructive journalism training course led by a DW Akademie expert on 17-19 March 2023.
During the training, selected journalists will learn how to develop stories on inspiring solutions, and to conduct a critical evaluation of their impact. Journalists will discover the potential of constructive stories, inspiring people to rethink their approaches, providing solutions, and encouraging actions.
Participants will get acquainted with EU-funded projects in Armenia aimed at environmental protection, regional and economic development, inclusion, and youth empowerment. The projects will present their activities at the training in the format of an elevator speech.
After the training, participants will get an opportunity to receive production support from EU NEIGHBOURS EAST, which aims to enable journalists to create constructive journalism stories about EU-funded initiatives of their choice.
EU NEIGHBOURS EAST will provide participants with practical guidance on how to produce and disseminate such stories, as well as with financial support (maximum €200 per application).
The journalist applying to participate in the European Media Facility Lab Armenia:
Must have experience in working with Armenian media settings.
Must be fluent in English as the training will be in English.
Should be available for the training on constructive journalism from 17-19 March 2023.
Should be in cooperation with any free, independent Armenian media platform.
Should be interested in covering cooperation between the EU and Armenia and learning about EU-funded projects active in Armenia.
Each journalist can develop only one media material within the project.
Interested candidates must fill in this application form before 15 February. Journalists travelling from other cities in Armenia will be provided with accommodation.
For all questions and clarifications, you can contact [email protected] by email.
What is constructive journalism?
DW Akademie is promoting Constructive Journalism to tackle the most defining questions of our time. Constructive journalism is an innovative approach to storytelling that can broaden the way people perceive problems. These stories focus on inspiring solutions and critically evaluate their impact instead of focusing on problems only. Constructive stories can inspire people to rethink their approach and even actions.
More information and insights on DW Akademie's approach is available here: https://akademie.dw.com/en/constructive-journalism/s-57736859
The 'European Media Facility Lab in Armenia' initiative is being implemented by DW Akademie in cooperation with EU NEIGHBOURS EAST and is funded by the European Union in Armenia.
The EU-funded Regional Communication Programme ('EU NEIGHBOURS EAST' 2020-2024) is part of the renewed strategic approach to communication developed jointly by the DG NEAR (European Commission) and the Strategic Communications Task Forces of the European External Action Service (EEAS). It aims to enhance strategic communication actions, improve public understanding of the EU and its policies, as well as build societal resilience to disinformation in the EU and its Eastern Neighbourhood.
Closing Date:
February 15, 2023
Allowed file types: .pdf, .doc, .docx, .xsl, .xsls, .jpg
No file choosen