We are small teams doing BIG things!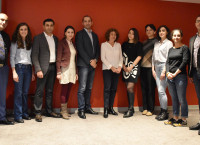 Youth Organizations Union created
31 October, 2018, 16:01
The source can be found here.
Today 7 youth organizations have signed a Memorandum of Understanding, creating the Youth Organizations Union (YOU). The goal of the union is to form partnerships between youth, state, local self-governing bodies, NGOs and other stakeholders in this sphere, to undertake youth affairs and work in the field of youth. Thus, the YOU creates partnerships and coordinates the work done in the field of youth. The organizations that have joined the memorandum are: "Gyumri Youth Initiatives Center" NGO, "Youth Cooperation Center of Dilijan" NGO, "KAZA" Swiss Humanitarian Foundation, "Armenian Progressive Youth" NGO, "Centre for Community Mobilization and Support" NGO, and "Stepanavan Youth Center" NGO.
The initiative was conducted within the "EU4Youth: Better Skills for Better Future" regional project (2018-2020), implemented under the funding from the European Union in three countries: Armenia, Georgia, and Ukraine. In Armenia, the project is implemented by Save the Children International Armenian Representative Office in cooperation with OxYGen Foundation for Protection of Youth and Women Rights.
Allowed file types: .pdf, .doc, .docx, .xsl, .xsls, .jpg
No file choosen